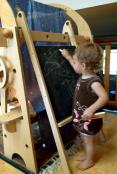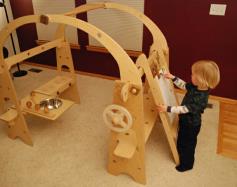 Welcome To Playstands Plus!

      Hi, I make and sell collapsible Waldorf / Montessori playstands with a unique "knock-down" design that allows them to store flat in the closet or under the bed when you need some extra space.  Perfect for smaller spaces and lots of fun to change around.  Someone unfamiliar with children's playstands  might ask "What are playstands?" The answer is "They are anything your child imagines them to be."  They are usually draped in a large piece of silk to become a store, kitchen, castle, racecar, house, fort, pirate ship, or anything else.  Most importantly, children absolutely love a cozy little nook for themselves and will play with them for years to come.

        I build simple wooden toys for imaginative play, also known as open ended toys. Most modern toys fill in all the blanks for children leaving very little to the imagination.  My playstands are super-strong and use a cool system of wooden nuts and bolts that you can use to easily assemble and change the playstands in many different ways.  Using the wooden nuts and bolts helps with manual dexterity and basic mechanical skills. I use the best materials available and each playstand is handmade by me, right here in Colorado.  There is no mass-production and I do not use splintery "Home Depot" plywood or MDF.  I use a VERY high end, 13 ply, 100% hardwood, USA made, C.A.R.B. certified, plywood with beautiful hard maple on its faces.  Look closely at imitations!! There is a big difference.

       I also make many bolt on playstand accessories like a wooden toy kitchen (sink and stovetop), a children's easel, playclips, a  steering wheel, 2nd shelf, and even a wooden erector set with more fun stuff on the way!   

In minutes you and your children can add a wooden toy kitchen to your Waldorf playstands, and just as quickly change them into something else.  When you need the space again, the wooden playstand and arches come apart without tools and store flat under the bed.

--Call anytime or e-mail with questions-970-420-3938